Hello hello you lot!
4470 Views? Wow.
So, yeah, it's been a while hasn't it? I hope you're doing well, if you aren't,I hope I can be a help, because we all need someone who writes about themselves to comfort us right?
However, I offer everybody here a hug, especially those that need said hug.
Where do I start? Things have been crazy cool this past fortnight, so much going on, which is precisely the reason I haven't written you all in a while, with the band, the band's wobsite, brainstorming for DFWTB's new projeKct, gaming, trimming the beard, admiring said beard, gig and so on, so forth.
I haven't managed to comment on
E3
The passing of Clarence Clemons & Ryan Dunn
Duke Nukem Forever
19 months since I lost Dad
The Actress & Bishop show
How bad Duke Nukem Forever was
Sunglasses
Which is alot to comment on in one blog, but I have time to kill and a 3 hour playlist. My back in the saddle was exceptionally long, and that got my most views ever in the history of the LCB.
E3, what a show eh? from what I saw I personally enjoyed the whole thing, Microsoft actually making some "games" for Kinect, YouTube on the dashboard and a
whole host of games that aren't Call Of Duty: Modern Shovelware 3
, Sniper: Ghost Warrior 2, Minecraft 360, Street Fighter X Tekken, Gears Of War 3, Metal Gear Solid HD Remasters are the ones I can remember off the top of my head, so yeah, the rest of this year is looking good...
We don't talk about Nintendo
Tragically this week saw the death of Clarence Clemons, one of the best saxophone players on earth who played in Bruce Springsteen's E-Street Band, and laid down some of the best Sax solos I'd ever heard, Born To Run, Badlands, just to name a couple any record I heard him on, I instantly knew it was Clarence, his sound was unique and he just had that effect on fans and musicians alike, I can't really pay tribute at all, all I will say is a big thank you, the legacy over the years is what you have left us, and that's a more fitting tribute than I can ever come up with.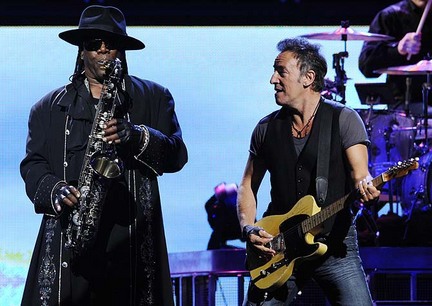 Thank you Clarence.
Another loss this week was to Ryan Dunn, one of the guys from Jackass, he wasn't killed by riding a mattress down Everest, but a high speed collision, I've seen pictures of the wreckage and it's no surprise he was killed, what makes it worse is that he could only be identified by his beard and tattoos, he was my favourite of the Jackass guys and he provided endless laughter to me and others, thanks for everything Ryan.
*Jackass guitar riff*




Now a couple of weeks ago, the long awaited Duke Nukem Forever was released and with it came high expectations, so I went right out and bought it, and as imagined, it was poo.
Big smelly poo. I honestly regret playing it, it was that bad, I honestly think I could have made a better game.
It's a damn shame, however if you want a no holds barred FPS, that's manly and satisfying as hell, Bulletstorm is what I would highly recommend, at least Grey can hold more that 2 shit weapons at once, and now it's been out a while, you can pick it up for less than DNF.
Bulletstorm, the FPS of choice for Luke Clarke.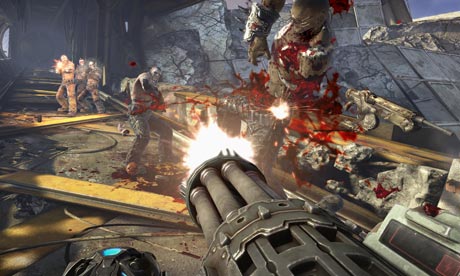 Duke aint got this shit!
Now I'm writing this on June 22nd, the 30th will mark nineteen months since I lost my father, it's only just hit me how quick that time has gone and how much I wish he were here to see all that's going on with Framed and everything else, it makes me very sad when I think about it, knowing that all of this that I'm doing now I know he would have loved, very saddening indeed, I miss him dearly as you all know, but nothing will bring him back.
What a daft git.
So, last Friday was a really satisfying gig, over at The Actress & Bishop in Birmingham, there was a lot of pissing around before we actually got our gear on stage, partially because of the knobbish lot of amateurs myself and the gang could see in front of us.
At a glance we thought it was a "Fender/Line 6 Showcase Evening". Myself and Joe having a giggle at the shiny gear these other guys had brought with them, as we grew further impatient and angry, because well...they didn't bring a bass amp for The Cardboard Man to use, however when one appeared, it was like seeing a shoebox with Laney written on it, laughs were had.
First things first I'd like to thank everyone that helped us with the gear.
Secondly, all of you fantastic folk that came along to see us, thank you for making it a brilliant night, from behind tinted shades I could see you all feeling the rhythm, singing and dancing, afterwards we got some awesome feedback from everybody there, except for the poo band that were, who I'll be honest just seemed to ignore us, I saw them taking the piss while we were warming up with "Don't You Ever". I gave them the bird and carried on having a beard and outplaying their whole band.
However, there are some big things on our horizon, Framed are taking some time off to write and record the album, we've got the time to do it and the drive to do it. With all the input we all have, I have a gut feeling you lot are in for something special.
and that's it for now folks
as usual, thanks for reading, and remember
B. Cool
Your pal
Luke Clarke